Cleaning
Next generation, specialist Biotech and Ecotech work in synergy to tackle tough cleaning challenges and provide long-lasting odour control with market-leading dilution rates.
How Biotechnology Achieves Cleaning Performance
All bacteria are not the same. Bacteria produce enzymes that break down specific waste into smaller molecules so they can be absorbed by the cells to allow them to grow and flourish. If the bacteria don't have the correct enzyme abilities they will have no or little impact on the waste. Species and strain is vital to how products behave and what they can do.
At Biological Preparations, we've analysed hundreds of strains to identify those that produce the most effective enzymes for the degradation of fats, starch, cellulose, protein and uric acid:
Superior Cleaning Performance
We combine Biotech and Ecotech ingredients that work in synergy to deep clean, remove odours and provide long-lasting cleaning protection.
Deeper Cleaning Action
Our proprietary bacteria colonise areas of application and provide a deep-down cleaning effect:
Remove any level of odour or stain
Clean the areas traditional technology can't reach (soft fabrics, grout, cracks etc.)
Degrade organic residues left behind after cleaning
Clean without damaging assets or dulling surfaces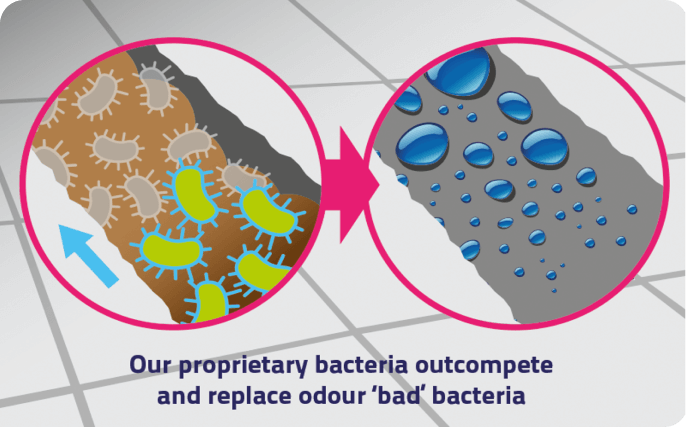 Residual Cleaning Action
Proprietary bacteria form biofilms on surfaces, creating a healthier environment and providing long-term cleaning action. Organic matter is broken down at source, eliminating odours and making subsequent cleaning less labour intensive.

Odour Removal
Odour trapping biotechnology absorbs odour molecules, effectively removing bad smells.
Odour neutralisation biotechnology encapsulates and binds odour molecules making them undetectable.
Odour degradation biotechnology degrades organic matter and odour molecules removing the smell at source.